Dave was awesome to work with. He was very knowledgeable and patient, and he always made himself available to answer my questions. Plus he sold my house in 2 months!
Thanks Dave
---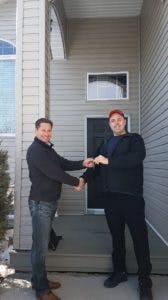 Dave Storoschuk Royal Lepage Bonnyville.. A huge thanks to Dave for helping us find a home in Bonnyville.. Dave was patient,on top of everything we needed and did not procrastinate with anything we asked him.. he made this experience almost stress free.. lol.. Thanks so much Dave!!!
R and C
---
Dave was a great part of our recent purchase. Very helpful while touring the property and throughout the entire transaction. Would highly recommend Dave for any of your realty requirements. Great job Dave ! Thanks for all your help and advise.
Jeff and Dixie
---
We had Dave Storoschuk of Royal LePage, Bonnyville handle the sale of our lake property. A good choice on our part as he did a great job for us. We enjoyed a high level of timely, informative and integral service. Thanks Dave!
---
We used Dave when we listed our house in Bonnyville and within 2 months our house was sold he always answered his phone day and night and went above and beyond to make the deal happen. We choose to use Dave again when we bought our new place out of town and again went above and beyond to make the deal happen. If your buying or selling definitely give Dave a call.
---
It was such a pleasure working with Dave in the process of finding our beautiful new home. He was quick to understand our needs and steer us in the right direction. He made himself available to answer our every question, making us feel as though we were his top priority. The fact he went above and beyond to show us properties in a timely fashion (which included during Alberta's biggest cold snap of the year) proved his true commitment to the process. We found his honesty and humor endearing and he has personality +plus which made us feel completely at ease each step of the way. Thank you for helping us find our forever home, Dave. Going forward, anyone who is lucky enough to have you working for them in the process of buying or selling their home is in very good hands indeed.
Jennifer Spence
---
Best realtor I've ever used! Honest! Fair! Everything you'd hope for. For an amazing experience Dave is unquestionalby who you should use in the Bonnyville / Cold Lake area.
Brent Norton